Inside the Grass Hut with Ben Connelly
Shadybrook, Inc. is proud to co-sponsor with Jijuyu-ji Zen Sangha of Cleveland and the
Cleveland Buddhist Temple to bring
Ben Connelly
presenting
Inside the Grass Hut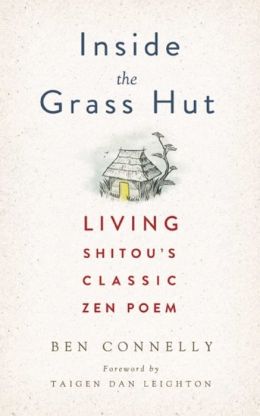 Tuesday, September 30th
Cleveland Buddhist Temple
1573 E. 214th St.
 Cleveland, OH 44117
7:00 p.m.
Suggested Donation $10
RSVP now to reserve your space
 Enter the mind and practice of Zen: apply the insights of one of Zen's classic poems to your life—here and now.
Shitou Xiqian's "Song of the Grass Roof Hermitage" is a remarkably accessible work of profound depth; in thirty-two lines Shitou expresses the breadth of the entire Buddhist tradition with simple, vivid imagery. Ben Connelly's Inside the Grass Hut unpacks the timeless poem and applies it to contemporary life. His book delivers a wealth of information on the context and content of this eighth-century work, as well as directly evokes the poem's themes of simple living, calm, and a deep sense of connection to all things. This is destined to become a trusted, dog-eared companion.
About the Author: Ben Connelly is a Soto Zen priest in the Katagiri lineage training with Tim Burkett at the Minnesota Zen Meditation Center. Connelly began teaching at MZMC in 2005, was ordained in 2009, was made shuso, or head monk, in 2012.  He is also a professional musician and leads meditation/backpacking retreats in Montana.  He lives in Minneapolis, MN.
Testimonials
"Clearly and beautifully links the life of this renunciate mountain monk to our own complex, multitasking, engaged and over-involved lives. He brings this poem to our lives, just as they are."
—Sharon Salzberg, author of Real Happiness
"Written from the inside out, this wonderful book explores Zen Master Shitou's marvelous and revelatory poem 'Song of the Grass Roof Hemitage.' The language and sense of immediacy makes Shitou's work transparent to all."
—Joan Halifax, founding abbot, Upaya Zen Center
"Easy and pleasant to read, with plenty of wit, and many examples from daily life. There's humor, deft turning of phrase, even some paradox and poetry."
—Norman Fischer, author of Training in Compassion
"Written not just for Zen practitioners, this lovely book offers insights and encouragement to all who seek to live in the simplicity of the present moment."
—Janet Abels, author of Making Zen Your Own
"A clear, charitable presentation of Zen tradition and practice. Striking is the personal and serene tone of the writing, of the instructive exposition, which infuses the book with a living pulse and—what I will dare to call here—the very essence of Zen. "
—Mike O'Connor, translator of Where the World Does Not Follow